VodaSafe's AquaEye Offers a Lifeline against Drowning
The handheld sonar device can locate people submerged in water or trapped under ice.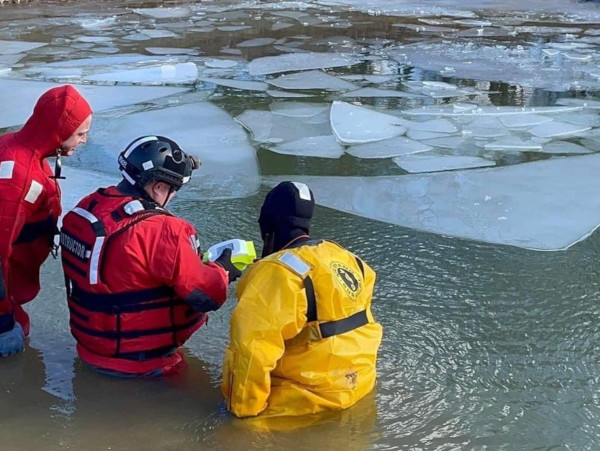 One of the most dreaded experiences for lifeguards is searching for a missing person in the water. Conditions may mean visual searching is almost impossible, or – at best – very difficult.
VodaSafe CEO Carlyn Loncaric knows this from her own experiences. She spent her summers as a lifeguard while studying engineering at Simon Fraser University and remembers the process well. "We did all the search drills in training, and I had friends who worked outdoors and would tell me what frightened them most. That call to grab goggles and enter the water swimming close to each other in a grid pattern. They really couldn't see anything, and it was not the best way to try and find someone in trouble. It was scary."
It inspired her to apply her engineering education to find a better, tech-based option. "I pitched my university undergrad capstone group to take on this specific project. No one was very keen on the idea, but I persisted, and we developed a prototype for today's AquaEye."
AquaEye is a sonar scanner that takes stock of objects under the water. It uses AI and machine learning to quickly select which object is most likely to be a person, based on its size and density. The hardware has the potential to transform the rescue industry. The faster rescuers can get to the right location, Loncaric points out, the better the chances of success – which can save resources as well as lives.
After graduation, Loncaric went on to work for a startup biomedical engineering firm, which provided her with a handy understanding of what it would take to launch her own company. When she was laid off as part of the startup cycle, she told herself, "Now is the time to make a difference." Because of her background in lifesaving and the already-built prototype, she was well-placed to bring her vision to life, and continue to develop and market AquaEye.
"Our very first customer was the Lifesaving Society of Ontario," she explains. "The current CEO Brian Miees was so impressed with the concept and accessibility that the organization provided R&D funding as well."
Although VodaSafe's initial push to market focused on lifeguard-based organizations, the pandemic closed most places needing those services, so Loncaric and her team pivoted to the fire rescue community. The group became an early adopter of the AquaEye tech, and brought with it a dedicated budget for new equipment. The draw for fire rescue services, she says, is threefold: improved team safety, fewer resources required, and faster resolution. As well as searching in open water, rescue teams are also able to use the product to scan for bodies under ice.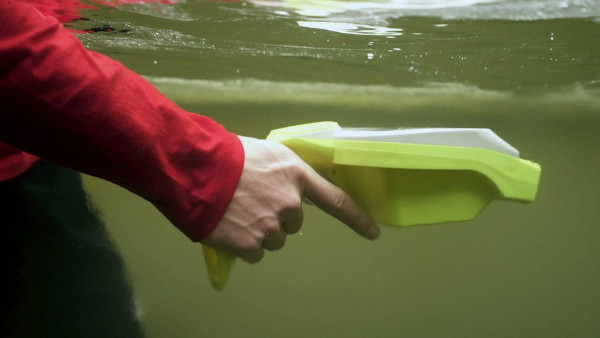 After that first influx of cash from the Lifesaving Society of Ontario, VodaSafe secured significant investment from firm Vanedge Capital. Current VodaSafe board member and Vanedge partner Amy Rae tells Vancouver Tech Journal how Loncaric's "mission, determination, and technical skills" persuaded the group to commit to early stage investment. According to Rae, the combination of the fire rescue, lifesaving, first-responder, and youth camps offers a $3 billion market for the product.
"We made the initial investment in Carlyn and her mission to make water rescue safer," Rae says. "The choices for search and rescue teams have been very limited. Many depend on goggles and floatation devices or expensive, difficult-to-operate boat-side scanners. Neither is as efficient nor cost effective as a powerful handheld sonar device they can use to find someone. The other benefit is that the chance of finding a person increases significantly with AquaEye, and the less time a rescue team spends in the water, the safer the team."
Even with minimal marketing efforts, sales of the AquaEye are growing. The VodaSafe team originally used direct calls to reach clients, but now focuses on becoming part of their customer communities through conferences and training programs. According to Rae, the key distribution partnerships the company has secured in Europe and Indonesia are just the beginning. "They will need to scale up to keep up with demand over the next few years," she says. "Not a bad problem to have! The company will be profitable this year, has high margins, and is growing over 200 percent."
Loncaric believes that knowing how to pick your partners is critical. "We receive inquiries every day from around the world, but for us it's very important for our distribution partners to be as invested as we are in the training needed to make the most of AquaEye." So far their partner criteria and expectations are working well – so well, in fact, that a full user-training program for the tech was enthusiastically developed by the Copper Collar Group: retired navy divers who focus on creating safer situations globally for divers and first responders.
The one-of-a-kind AquaEye manufacturing is done in-house – locally in Vancouver – and Loncaric is already making plans to expand capacity and match the increasing demand. "We know it's time to move forward and we see our opportunities growing," she says. "In a perfect world, I would love to see this device in the hands of every water-safety volunteer, first-responder, and lifeguard."
The success of the product is personal for Loncaric. "Being able to grab an AquaEye and get in the water means you can start searching in seconds," she says. "You can search the area of a football field in just two minutes, and go as deep as 50 meters. [That] makes the effort a rescue instead of a recovery, because every second can literally save a life."