Victoria-Based Axolotl Biosciences Is 3D-Printing Tissues that Mimic Human Stem Cells
The young company is leading a seismic shift in medical research and practice.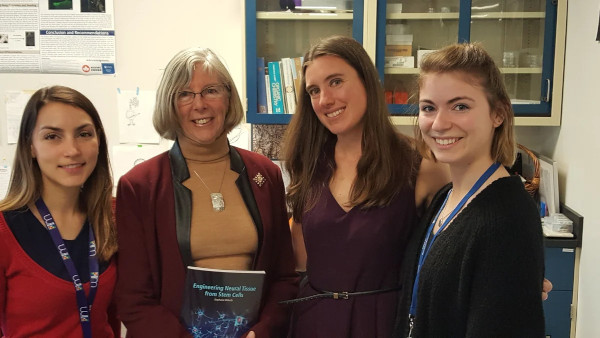 Pharmaceutical companies and researchers have to meet stringent standards for testing new drugs. In the past, drug discovery processes have been expensive and often yield poor results. Although it's no secret that stem cells have the potential to tackle multiple life-impacting conditions like Alzheimer's, Parkinson's, cardiac disease, and cancer, researchers haven't typically used unique stem cells for drug research.
Victoria-based biomedical startup Axolotl Biosciences hopes to change that with its development of stem-cell-based bioinks. These inks are used by 3D bioprinters to print (fabricate) biological tissues that mimic human tissue characteristics and functions.
Axolotl's initial product is TissuePrint, which, as its business plan states, is a "highly optimized bioink formulation suitable for 3D printing various cell types and adapted for various bioprinting platforms." The product enables pharmaceutical researchers to test prospective products without placing human beings at risk, and is far more effective than using animal tissues for testing. TissuePrint is available now, and can be ordered directly online; proving the desirability of TissuePrint, its beta testers have already become customers.
Other products under development by the company are BrainPrint and HeartPrint: bioinks from which neural tissue and cardiac tissue will be printed. According to Stephanie Willerth – the company's CEO, co-founder, and science lead – this bioink will address a huge obstacle for developing cardiac drugs. "Cardiac toxicity is one of the main reasons so many drugs fail during discovery," she tells Victoria Tech Journal. "We can identify it faster and eliminate those drugs from testing rounds."
When it comes to seismic shifts in biotech, it's hard to get much more dramatic. The competitive advantages of the company's optimized bioinks include reducing the time and labour associated with homemade formulations, and testing for consistency and reproducibility. The bioinks also support high levels of survival and function for a variety of cell types when bioprinting, with techniques that are optimized for various bioprinters.
Willerth and co-founders Laura De La Vega and biomedical engineer Laila Abelseth have also built a reputation as a go-to team for bioprinting advice and support with the company's growing consulting service. As well as manufacturing its own bioinks, the team is able to advise on how to use bioprinters as effectively as possible, regardless of what bioink is used; a service that is especially useful for labs that use the expensive materials and complex printers.
Axolotl has received a number of awards along the way – among them the Judges Choice at the 2021 Life Science Innovation Northwest Conference, and recognition as "one to watch" by the prestigious scientific journal, Nature. Axolotl is also one of two B.C. companies to participate in the highly selective Canadian Trade Accelerator program in Boston. Unlike other startups, the company's research has been cited numerous times in academic journals, and Willerth has co-authored a considerable amount of papers in the field, affording Axolotl serious street cred in the academic community.
This year, after graduating from the Canada Trade Accelerator's seed stage program, Axolotl competed as a semi-finalist in the NexStream competition. When the team pitched at the Effervescence event in Montreal, they were named the winner of the Consortium de Recherche Biopharmaceutique's prix Coup de Cœur at the startup pitch contest. As a result, Montreal incubator Centre Québécois d'Innovation en Biotechnologie ordered $2000 in bioink.
According to Willerth, Axolotl has "three distinct customer segments: academic researchers, research institutions, and pharmaceutical companies. We support our customers and society by advancing tissue engineering and regenerative medicine through innovative products for 3D bioprinting. We believe it's a winning combination".
Axolotl Biosciences is attracting customers and solid financial support. Business leader Gordon Feil remembers how Vencorp Holdings became investors in Axolotl Biosciences: "I was made aware of Axolotl by people at SRED Consultants, another company in which I am involved. I first met Stephanie and her crew when I toured their lab at UVic. I came away with the impression of an energetic and creative team. I like being involved with disruptive, transformative technology. It seemed an easy decision to link Axolotl to Vencorp".
What's in the future? Willerth shares that they have plans for finding a larger facility in Victoria, opening a facility in the U.S., and expanding the already enthusiastic global market for their products and services.
"We are developing collaborative alliances with groups excited about how our bioinks will help them make progress. Seeing strong adoption by clinicians, researchers, and doctors is a clear indication that we are growing in the right direction," she says.