Who is King of this CASL?
The simple answer is the person who can disconnect you from all of their future decisions (to buy, to travel, to ask for your help) with one click of an unsubscribe button.
The guiding principles behind the new Canadian Anti-spam Legislation (CASL) are that we must respect the wishes and preferences of the people we would like to communicate with. Email is a two-way conversation (although many still treat it as if it was a traditional broadcast channel – it is not).
CASL is asking us to provide opportunities to allow people to sign on fully understanding what they will receive, when and from who and when the situation doesn't meet their expectations – the decision and steps to ending the conversation is in their power. If this isn't the case then you (or your company, charity, government department) is NOT in compliance with CASL. Let me remind you I am not a lawyer and they will dive deep into the whereat and therefore. My goal is to help you manage the world of commercial electronic messages (emails and texts, cookies) with minimum anxiety and no legal jargon.
So, in my first post I said, "don't touch that toggle!" and promised to explain this week.
The toggle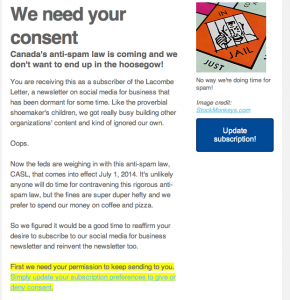 or button I am talking about is the sign up function. Say you have just sold a product to a brand new customer and part of their contract or receipt is a statement that lest them know they are now going to receive your emails. Nope. You can't make that choice for them. Add a clear check box and explain what they are signing up for. Is it info on recalls or deals? Let them know.
How about that lovely little "Subscribe Now!" box in a form or contest entry already checked.
Well, isn't that sweet? Nope. Not in compliance with the new laws. The decision to sign up for your riveting newsletter must be theirs. Period.
I have an extra session on CASL in Nanaimo June 11 8-9:30 if you would like to join the conversation (with your permission of course!). email me at rquinn@bigbangcommunications.ca
Your homework:  draft a message to your current lists – short and clear – or with a sense of humour as my colleague in Calgary demonstrates in the letter to his clients here.
Next post – why automation is your friend.