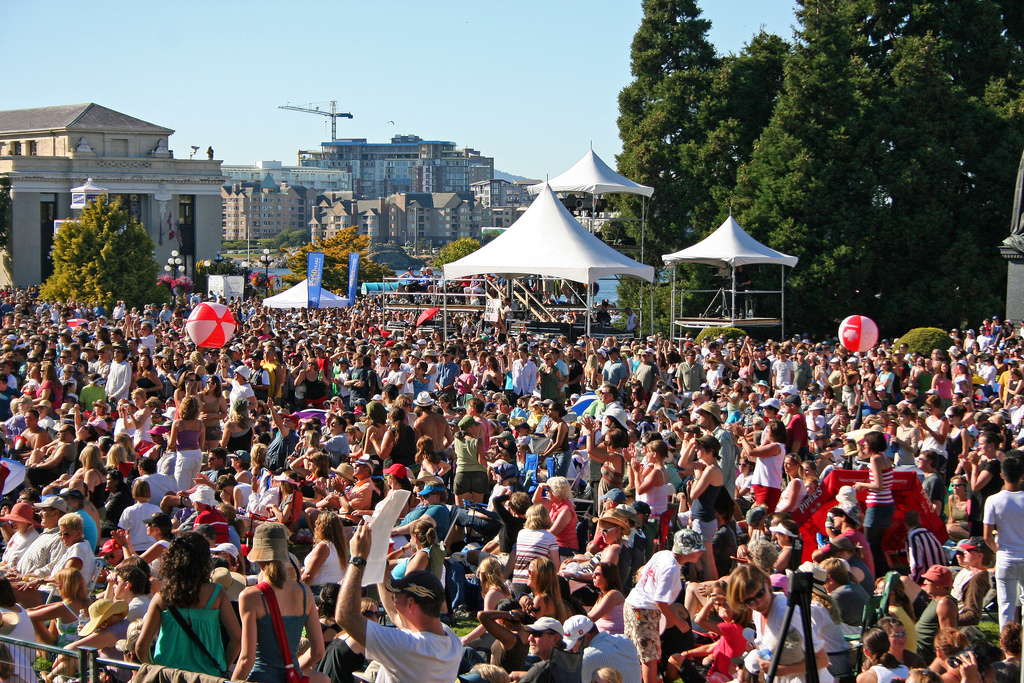 Imagination Economy – Part 2
Imagination Economy – Part 2
by Robyn Quinn
Featuring interviews with Sean Hoyne, Nick Blasko, Sage Baker, Caleb Beyers and Chris Nohr
Conversations with smart, funny, imaginative, articulate, and ambitious people based in Victoria, by choice, capture three key themes that draw and keep talented and creative folks close to the Victoria area: collaboration and creativity; people and community; and big picture quality of life.
Our city is bursting with dynamic people and their ideas – scientists, researchers, writers, teachers, and artists are all in the game. Instead of separate silos promoting one tiny aspect of the city, innovative Victorians increasingly fix their eye on the big picture as they move toward a model of collaboration.
No Silos – Lofty Goals for Victoria
Rifflandia Festival will hold its sixth event this September in downtown Victoria. Last year the festival helped VIATeC leaders show a group of visiting venture capitalists a good time. The strategy  was simple, introduce jaded and world weary VCs a taste of Victoria that they were not expecting. So they essentially had a back stage pass to one of the city's most exciting music events. Talk about blowing away stereotypes!(image credit: MyRifflandia2012 keighleykodric.me )

At the helm of Rifflandia is Nick Blasko. A Victoria native, Blasko started Atomique Productions with his grade school pal Dimitri Demers 13 years ago. Together they have built a reputation for bringing some of the world's best performers to Victoria. Blasko also runs a successful artist management team. "I have to do a ton of travel," Blasko explained, "but I always look forward to getting back to Victoria. It really is a fantastic place. We have a supportive, engaged arts community, fantastic access to nature and for me, the smaller city means we have a lot more opportunities for collaboration. Sure, we have neighbourhoods but it doesn't feel as siloed as it is in the big cities. Smaller is good."
Many share Blasko's appreciation for the power of small when it comes to generating the right creative spark. Having contributed to the look of Rifflandia in 2012, Caleb Beyers has worked on visual arts projects all over the world. And while he enjoys urban sophistication, in an interview with the Times-Colonist, he confessed that he had a "love/hate relationship with big city life. In Victoria there are no barriers to doing creative work". Beyers' company Caste Projects (a partnership with wife Hanahlie Beise) is also responsible for the quirky public face of Cook Street Village's Big Wheel Burger. His art exhibit Now Or Ever is at Habit Coffee (Pandora) until the end of July. Caste Projects is currently the creative engine driving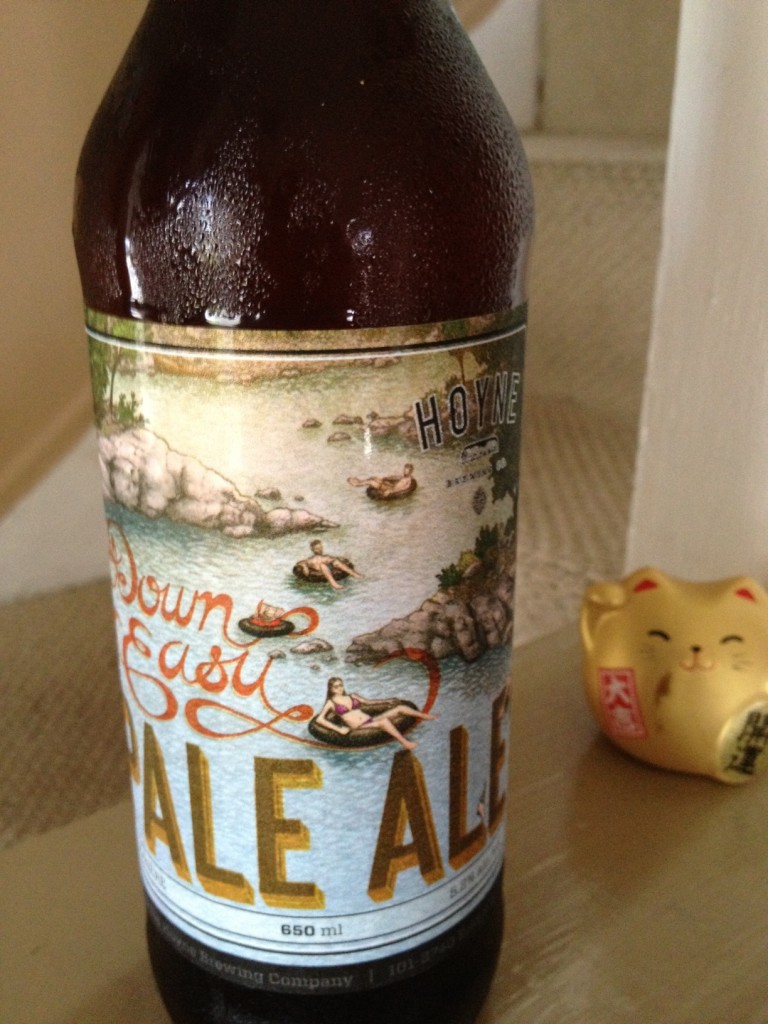 the cool look of Hoyne Brewery, the Down Easy Pale Ale artwork seen here was inspired by the local summer tradition of Cowichan River tubing.

You might see a thread here – when people who are smart and creative meet people just like them and the environment (Victoria) is all about collaboration – magical things happen.
Cross Pollination Develops Creativity and Innovation
 This notion of collaboration among sectors resonates with Sage Baker, of Q5 Innovations and the new director of economic development for the City of Victoria. She sees a lot of opportunity when sectors make organic connections, "There's a growing collaborative movement, which is fantastic, and it's underpinned with a evolving understand that as a community and a society we can do more by working together". And as Baker points out, "I think all of this is part of what makes Victoria unique. In some ways, as a business community I feel like we're just really coming into ourselves, and it's an exciting time to be part of that." Local Alex Glassy teaches at Royal Roads but used his Victoria based knowhow and interactions with students to launch StratPad – a mobile app for new businesses to craft and update a strategic plan. Glassey's app is enthusiastically endorsed by Forbes as one of 10 Mobile Apps To Make Your Business More Productive in 2013. Not too shabby.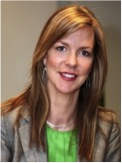 Sage promotes the idea of cross pollination as a way to foster growth and opportunities among organizations and sectors. "In this collaborative and connected community we're all a part of, I think cross pollination is hugely important and will make each of our businesses, and us as individuals, stronger," says Sage. "Ask me about life lessons useful for business gathered from an amazing local didgeridoo player! Only in Victoria!" 
Entrepreneur Sean Hoyne of the Hoyne Brewing Company is also excited by a collaborative approach.  Sean finds creative collaboration to be a natural here in Victoria. "Collaboration and connection abound when you make beer – it's a social lubricant," Sean observed. He feels that the different sectors here don't always operate like silos, but have the capacity to be "more like overlapping circles".
An avid cyclist, Sean points out, "There are natural associations and alliances with pubs and restaurants, but because of my own passions I am also connected to the cycling and the very dynamic culinary or "foodie" community here". In one interesting alliance Sean joined forces with Shayne Devereaux of Habit Coffee and Culture to craft a beer flavoured with a distinct Habit coffee roast. The result – Voltage Espresso Stout, a limited edition run brew – bottled the best of Victoria's unique and thriving coffee and micro-brewery industries.
These opportunities to dovetail interests and industries provide benefits to everyone and strengthen ties among people and businesses. This spirit of collaboration and connection, in parallel with players like Phillips, Lighthouse and Driftwood, has helped propel Victoria's craft micro-brewery industry to world-class level. Nowhere in Canad
a will you find such low levels of penetration from Labatt or Molson. Hoyne calls Victoria the mecca of the craft beer industry in Canada.
"There's tremendous support for entrepreneurs here in Victoria," says Sean. "People are very interested, enthusiastic, and encouraging – that's really important for small businesses. I'll risk getting sappy here – that feeling of support is very heart-warming," Sean admits. "We have a big small town," remarks Sean. "I can't walk down Douglas or walk into a coffee shop without saying 'Hi' to someone I know. That is so incredible and it's definitely not happening in big cities."
Here is a common thread with almost everyone – success happens in a smaller city setting with more community and less sector turf. Nick was talking about the obvious fact that "we're on an island, we have boundaries and geographical limitations" but what some might see as a challenge might be one of the big advantages to Victoria – we have an embracing framework, a platform to be creative and get to know each other better.
Community Connections Build Quality of Life
Knowing the people you work with and caring about the communities you serve is a big part of how Chris Nohr and thenumber creative function. From straight- forward web builds for small businesses to large scale digital installations like the interactive galleries at the new Robert Bateman Centre, thenumber is all about recognizing the importance of scalability. "There needs to be a balance," explains Nohr. "For us, we enjoy the challenge of complex projects like the recent Bateman Galleries, but working with important on-the-ground community stakeholders like Rifflandia and Island Outfitters or local boutiques like Still Life and Suasion really fills us with community pride."
The community connection makes sense for the team at thenumber. "We all live and play here," Nohr continues. "Half of our creative team are busy making Victoria's music scene awesome when they're not working – so of course the opportunity to work locally in the creative realm is something we all do, not just to pay the bills, but because comes naturally for us." Nohr puts it plainly. "It's work that directly results in a better quality of life for Victorians."
The Imagination Part 3 publishes July 15 – Rob Jawl and more, then wraps the whole story up ….or does it?
Special thanks to Kevin and Chris 🙂 – VIATeC Awards Magazine print article originally produced in conjunction with thenumber creative http://thenumbercreative.com/