Check under the bed for the "spam man" or …are you ready for the new Canadian anti-spam legislation?
On July 1, 2014 Canada's lawmakers are launching CASL (Canadian Anti-spam Legislation). So why should small or medium size business care about the new laws? Because anyone who uses commercial electronic messages (CEMs) to share information must be able to prove that they have the permission of the recipients. Here, from the CRTC website, is a simple explanation of your responsibility.
Now let me clarify my status before we go down this delightful path – I am not a lawyer and my opinions are those of someone who understands digital marketing. I do however have a healthy respect for the direction this legislation is taking us in – and so should you.
People want to receive emails about things they care about or answer the question "What's in it for me?" with "Plenty!"
So the Canadian government has brought in the toughest spam legislation in the world (yeah, the world) and we need to understand the rules to play and thrive.
Over the next few weeks leading up to CASL going into enforcement stage I am going to share info and checklists from my community of communications and marketing professionals.
EVENT ALERT: I am speaking to local Vancouver Island chambers about what their members need to do in order to comply with the new laws.without destroying their email marketing plans. June 11 in Duncan or June 26 in Victoria
The bottom line here is: Don't panic. All of the contacts you have worked so hard to gather and connect with can still be part of your communications and marketing campaigns. You just need to systematically contact them and explain that if they enjoy receiving your updates or newsletter you need their expressed consent. If they decide to unsubscribe or not answer (effectively removing their consent) you must remove them from your list.
That means you should inform everyone on your lists about CASL and ask them to continue or unsubscribe. Here is a good example of a great email I recently received from Doug Lacombe of Communicatto in Calgary: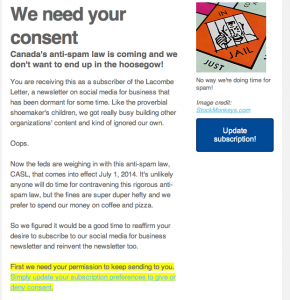 Not only did Doug follow the rules and inform people on his list of CASL's impact on them personally but he did it with the sense of humour that his clients, colleagues and friends expect.
Be ahead of the train on this one – it will give you a good excuse to clear your lists up of debris and concentrate on your core audiences and customers.
On Friday – don't touch that toggle switch and I'll tell you why.