The Ides of March are Over
Never mind that I have no clue what the ides are all about – March is never easy to get through. I survived by attending a few content and storytelling events over the last month and taking a look at how my clients could use their unique content in the best possible way. March forces me to be introspective. Back to client content, the key word here is leverage. Find your internal subject matter experts and deliver entertaining, educational or transformational information on as many platforms as you can then re-purpose the original in new formats and categories. Voila, strategically leveraged content. (oh, was that  French word? I could practically call this posting bilingual)
While battling March's doldrums I also noticed a very cool little series of videos from a young chef in Vancouver, Mikeala Rueben caters to a small select group of people who hire private chefs for their assorted soirees (using second official language alert). Her videos are – well I am going to say it – perfec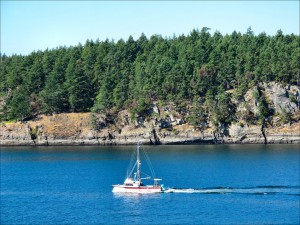 t. Artistically pleasing and entertaining – each of the four mini epsiodes convey a sense of adventure and fun about food. Which  is – if you are in the market for a talented chef – a very smart focus.
Adventure you say? Yes, at the beginning of each video Mikeala takes us on a short journey to find the ingredients for the featured dish. This is no smarmy cook yaking it up with a supplier – she brings us all along on a winter fishing trip off the coast of Vancouver Island, or shows us where the fattest blackberries can be picked. I loved that there is almost no audio spoken words. Instead of scripts there is funky music and visual personality. Those are all she needs to show us how to make roasted salmon or blackberry sorbet.  This is content that delivers a strong message without saying a word – her message: "I love creating food that seduces you. I have fun and you can too – try this – or hire me."
I think that she has left behind the perception that a recipe must be announced as you combine the ingredients – go visit the site and see for yourself.
The sublime fact is that she is a very good marketer of the product and the product is her appreciation for the culinary arts. Bon appetit (using second official language alert, maybe I qualify for cultural funding now?)
Visit her YouTube https://www.youtube.com/watch?v=4wf3c9v9znI